Lab Safety
If you have any questions or comments about the University's Lab Safety Program contact Environmental Health & Safety at (479)575-5448 or you may send email to the Laboratory Safety Compliance Coordinator, John Dixon.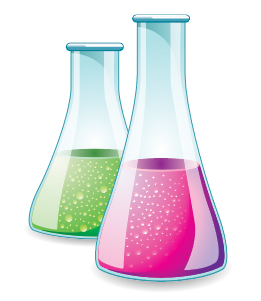 All laboratories are required to have:
a written, laboratory-specific emergency plan
materials to adequately contain and clean up a spill (spill kit)
documented laboratory-specific training in spill response for all personnel. The responsibility for ensuring this training is performed rests with the Principal Investigator (PI). If requested, EH&S will assist in devising a training curriculum to meet all safety and regulatory requirements.
General laboratory safety precautions:
Do not bring any food or drink into the laboratory. Never eat, drink or smoke in the lab.
Do not smell or taste any chemicals or other lab samples for any reason.
Do not engage in horseplay or rough housing in the laboratory.
Do not wear sandals/open toed shoes or shorts in the lab.
Do not pipette by mouth, ever.
Do make sure there is an SDS available in the lab for each chemical you are working with.
Do not work alone in the lab or allow experiments to run unattended. Unattended operations require careful prior planning and must have the approval of the PI or laboratory supervisor.
Do dress appropriately; your torso and arms should be well covered. Do not wear loose or sloppy clothing that could get caught in rotating equipment or come in contact with any chemicals. If you have long hair, pull it back out of the way of any reagents or machinery.
Do always wear Personal Protective Equipment (PPE) appropriate to the materials that are being handled. This includes the proper gloves, safety glasses or goggles, and a clean lab coat.
Do transport solvents and other reagents in secondary containers. Freight-only elevators should be used if possible.
Do clean and disinfect all glassware, instrumentation, and lab surfaces after each experiment. Do not allow sinks to fill up with dirty glassware.
Do not perform any experiments that you have not discussed in advance with your Principal Investigator or Lab Supervisor.
Do practice good housekeeping in the lab. Keep laboratory benches and work spaces clean and neat. Store personal items such as coats and backpacks appropriately.
Do not dispose of any chemical in the sink or sewer without the explicit permission of the PI or laboratory supervisor.
Do notify your supervisor immediately in the event of an accident or spill, so that the appropriate protocols can be observed.
In the event of an accident or spill, follow the appropriate procedure:
Laboratory Safety Resources: